Ngarga is the original name for the Nullarbor cliff line and ngurie or ruinyie, which means quivering. This formed from the quivering of Jeedara's great power when he was creating the cliffs and impressing the Yargaryliya, the Seven Sisters. Ngargangurie means the law of shield of holding back; keeping back the water levels from entering and covering our Country above the sea. Jeedara is responsible for the cliff in Creation times. Bunda is a common word for stone or rocks.
All along the Ngargangurie are water soaks and water holes and each of these places has a story, as does our world beneath the surface, full of caves and channels. The animals on our country also call these places womwoum, home and belonging, the sea eagles, owls, bats and penguins are just a few of the birds. There are many tiny, unique species of creatures who live isolated in the caves.
The white dingo we call in our Mirning language Kadimirl Thutha and the black dingo Mardia Thutha. They were Jeedara's companions and came from the stars. They ran along the cliffs, having a conversation with Jeedara and keeping him from not getting angry.

Deep time + isolation + pristine = unique + exceptional + vulnerable
= World Heritage for the SA Nullarbor + Great Australian Bight!
For millions of years, the caves of the Nullarbor and waters of the Great Australian Bight have been isolated, creating unique ecosystems. Astonishingly, this unique estate is still pristine, yet vulnerable; renowned for endangered species and exceptionally high endemic biodiversity – the sheer quantity of unique species found here and nowhere else on Earth. The combination of human deep-time over 65,000 years and isolation has also given rise to a unique and vulnerable Yerkala Mirning culture.
Millions of years in the making, Humanity and our planet have been gifted an exceptional pristine estate that cannot be ignored and then rehabilitated by future generations. The natural and cultural values of the Nullarbor and Great Australian Bight require protection now!
The Nullarbor: A Unique Time Capsule for Humanity
Scientists acknowledge the significance of the Nullarbor as an extremely rare window into and globally unique archive of Earth's ancient past. Caves that have been intact for nearly 5 million years that are home to unique undisturbed species and above ground there are also wonders that are critical to protect.
The spectacular cliffs of the Nullarbor form the longest cliff line in the world and the vast Nullarbor is the largest single piece of limestone on Earth.
The Nullarbor and Great Australian Bight are outstanding on a global scale, including our Yerkala Mirning cultural landscape.
The unbounded vistas of the night sky are alive with our stories. Our cultural landscape of plains, caves, sea and sky is imbued with the myths and sacred sites of our unique cosmology.
You can read more about the unique waters on the Billia Mocalba page.
World Heritage protection for the Nullarbor and Great Australian Bight in SA – Let's create one of the greatest conservation estates in the World!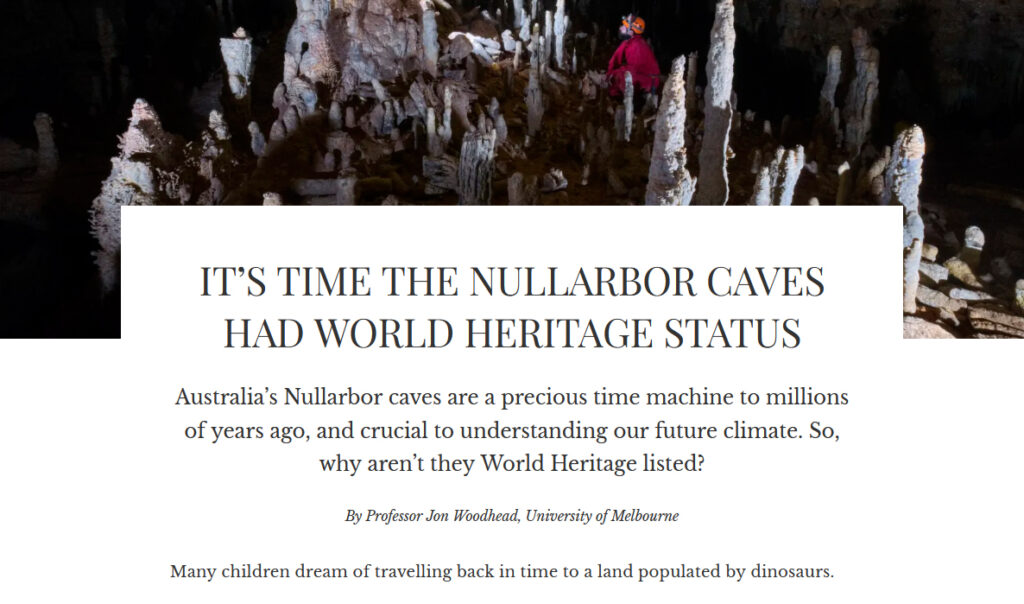 Professor Jon Woodhead, Melbourne University, in It's time the Nullarbor Caves had World Heritage Status, 24 January 2019 in Science Matters writes:
"The Nullarbor Caves meet many of the outstanding universal value criteria for World Heritage Listing – they contain "superlative natural phenomena" and are "an outstanding example representing a major stage of Earth's history."
"Whatever their future holds, the Nullarbor caves are, undeniably, one of the few landscapes on Earth that have survived intact for close to five million years."
"We should make every effort possible to preserve them for future generations. They are a National treasure, and should be part of our national conversation."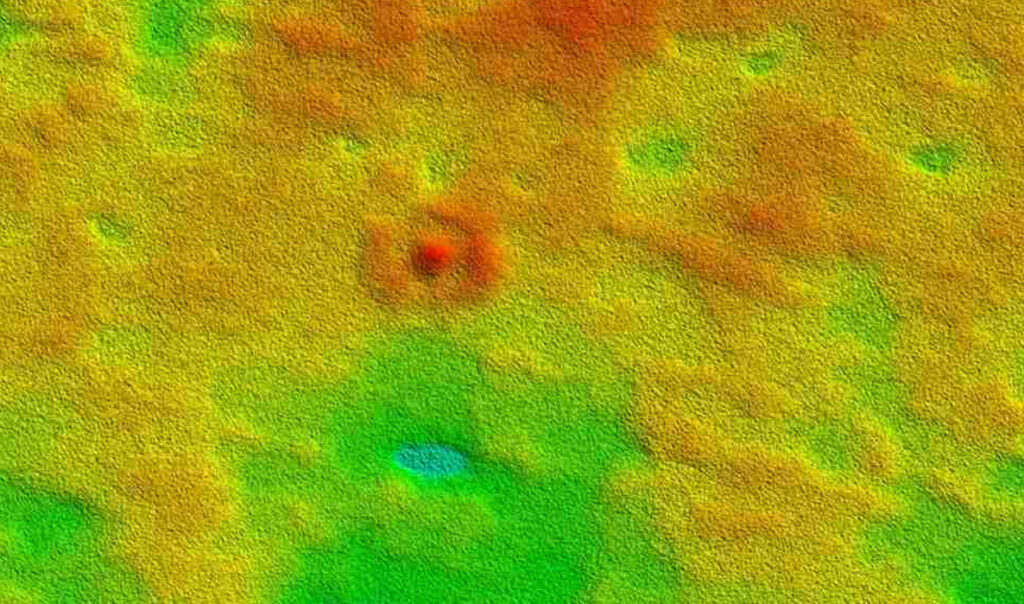 Dr Milo Barham, Curtin's School of Earth and Planetary Sciences, has worked with new high-resolution satellite imagery, which revealed subtle features representing surprising histories of environmental evolution on the Nullarbor Plain. This includes a reef-like original sea-bed structure preserved for millions of years. In Study unearths ancient reef structure high and dry on the Nullarbor Plain, 8 September 2022, Science News, Dr Barham said:
"Evidence of the channels of long-vanished rivers, as well as sand dune systems imprinted directly into limestone, preserve an archive of ancient landscapes and even a record of the prevailing winds. And it is not only landscapes. Isolated cave shafts punctuating the Nullarbor Plain preserve mummified remains of Tasmanian tigers and complete skeletons of long-extinct wonders such as Thylacoleo, the marsupial lion."
"At the surface, due to the relatively stable conditions, the Nullarbor Plain has preserved large quantities of meteorites, allowing us to peer back through time to the origins of our solar system."
"These features, in conjunction with the millions of years old landscape feature we have now identified, effectively make the Nullarbor Plain a land that time forgot and allow a fascinating deeper understanding of Earth's history."
PLEASE NOTE: There are traditional protocols around entering Country and caves, especially areas that are sacred to us. These are not protocols that our Elders have created; they form part of the laws and customs passed down for thousands of generations. Our protocols protect our sacred sites spiritually and also the extremely rare and unique species that have inhabited their isolated garoo womwoum, cave homes for millions of years.
To stay physically and culturally safe, please respect traditional protocols. There are very serious State and Commonwealth laws for damaging Aboriginal sites and for removing items from our Country.